TranscriptionWing Offers Clean-Up Editing Service for Sonix Machine Transcript Customers
Greenwich, CT, September 12, 2018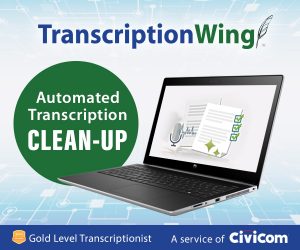 New York-based general transcription service TranscriptionWing™ is now one of the approved vendors offering transcription clean-up solutions to customers of Sonix, a fully-automated transcription service. TranscriptionWing was vetted as "Gold Level" by Sonix for "high quality, excellent service, and fast response time."
TranscriptionWing™ was launched in 2005 as Civicom's general transcribing service unit and has since been serving quick and affordable transcription solutions to various industries including corporate, market research, academia, finance, biotech and life sciences, legal, media, and many more.
Earlier this year, TranscriptionWing launched its clean-up editing service for automated transcription companies to help improve the quality of machine-generated transcriptions offered by many services in the market today. While convenient and affordable, automated transcriptions have yet to reach 100% accuracy – until then, the human touch remains critical in producing accurate and coherent transcripts.
Upon receipt of a clean-up service request from a Sonix customer, their transcripts undergo a fool-proof editing and review process by seasoned TranscriptionWing editors. With affordability, flexibility, and high accuracy in mind, TranscriptionWing will convert a machine-generated transcription into reliable and workable transcripts for analysis, reporting, and documentation.
Sonix utilizes an automated transcription software powered by cutting-edge AI to transcribe, timestamp, and organize audio and video files so they are easy to search, edit, and share.
Originally established to provide transcriptions complementing Civicom's conferencing services, TranscriptionWing continues to provide affordable and accurate audio transcriptions to various industry sectors including market research, technology, finance, legal, educational, and religious organizations.
TranscriptionWing™ specializes in general transcription services, providing accurate audio transcriptions at flexible turnaround options that range from four hours to five days, at rates that are as low as $1.29 per recorded minute. TranscriptionWing operates in a culture of confidentiality that ensures project security and client information privacy, and has undergone HIPAA compliance training.
While many services try, test, and struggle with the automation of speech-to-text conversion, TranscriptionWing continues to provide the indispensable human touch in the transcription process.
TranscriptionWing is a service of Civicom Inc., a reliable global leader in audio and web conferencing, that provides advanced virtual communications solutions for the world's top organizations. Civicom also serves the marketing research community, with a strong industry presence in facilitating virtual IDIs and focus groups, online multimedia boards, and mobile research. Civicom is powered by a combination of proprietary audio conferencing technology, online meeting software, web technology tools, superior recording capabilities, and a proprietary transcription system. For more information, visit https://www.transcriptionwing.com.
Source: PR.com