Civicom TranscriptionWing™ exhibits at 2019 QRCA Annual Conference
GREENWICH, CONN. (PRWEB) JANUARY 30, 2019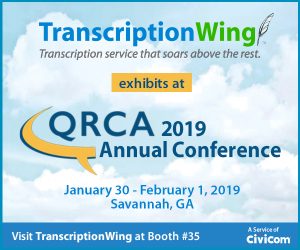 Civicom® general transcribing service TranscriptionWing is an exhibitor at the annual Qualitative Research Consultants Association (QRCA) conference from January 30th to February 1st in Savannah, GA. TranscriptionWing is showcasing its transcription services and leading-edge features that can help qualitative researchers derive insights from expertly transcribed recordings.
This year's QRCA annual conference, themed "Charting Your Best Course," aims to enlighten qualitative researchers on the latest best practices, methodologies, solutions, and insights that can quickly be implemented in real-world practice. TranscriptionWing joins over 40 service providers, including Civicom Marketing Research Services, in presenting top-rated services for the qualitative research industry.
Since 2005, TranscriptionWing has been providing quick and accurate transcriptions to various sectors, including market research. Seasoned transcribers and editors knowledgeable in the interview and focus group process deliver accurate transcripts with flexible turnaround times and rates that can accommodate any deadline or budget. In addition, TranscriptionWing enhances the value of its transcriptions with the unique ListenLink™ feature, which aids qualitative researchers in identifying key segments of their interview or focus group recordings through easily accessible links.
With accurately transcribed market research transcriptions, insight professionals are enabled to gather information without having to comb through multiple hours of audio. TranscriptionWing also offers the option of verbatim transcription, which captures every utterance from audio and video recordings, making sure that nothing gets lost or misinterpreted. In addition, TranscriptionWing is one of the few companies that still offers human transcriptions with live, experienced editors with backgrounds in the study of Journalism and Writing. These talented professionals further help assure accuracy, which is of particular value when the stakes of accuracy are high.
Additional TranscriptionWing services include InSummary™, which prepares meeting minutes from an audio conference as an alternative to an in-depth transcription.
Transcription options are abundant, but Civicom's TranscriptionWing has for years stood out from the crowd through its attention to detail and high-quality customer service. Customers flock to TranscriptionWing for the advantages of these benefits. QRCA conference attendees are encouraged to visit booth #35 to learn more about TranscriptionWing's latest services and features.
About QRCA
The QRCA is a not-for-profit association of consultants involved in the design and implementation of qualitative research – focus groups, in-depth interviews, in-context and observational research, and more. QRCA's goal is to promote excellence in the field of qualitative research by pooling experience and expertise to create a base of shared knowledge.
About TranscriptionWing™
Originally established to provide transcriptions complementing Civicom's conferencing services, TranscriptionWing continues to serve affordable and accurate general transcriptions to various industry sectors, including market research, technology, and finance, as well as legal, educational, and religious institutions. The general transcription service has continued to develop its processes and offerings over the years while strengthening its new and existing relationships and improving its services to meet different client demands.
TranscriptionWing™ specializes in general transcription services, providing accurate audio transcriptions at flexible turnaround options from four hours to five days at rates that are as low as $1.29 per recorded minute. TranscriptionWing operates in a culture of confidentiality that ensures project security and client information privacy.
While many services try, test, and struggle with the automation of speech-to-text conversion, TranscriptionWing continues to provide the indispensable human touch in the transcription process.
TranscriptionWing is a service of Civicom Inc., a reliable global leader in proprietary audio conferencing technology, online meeting software, web technology tools, and superior recording capabilities. For more information, call +1-203-413-2414 or visit https://www.transcriptionwing.com.
Source: PRWeb