Transcription Service Provider TranscriptionWing™ Launches New Website
CHICAGO (PRWEB) NOVEMBER 25, 2022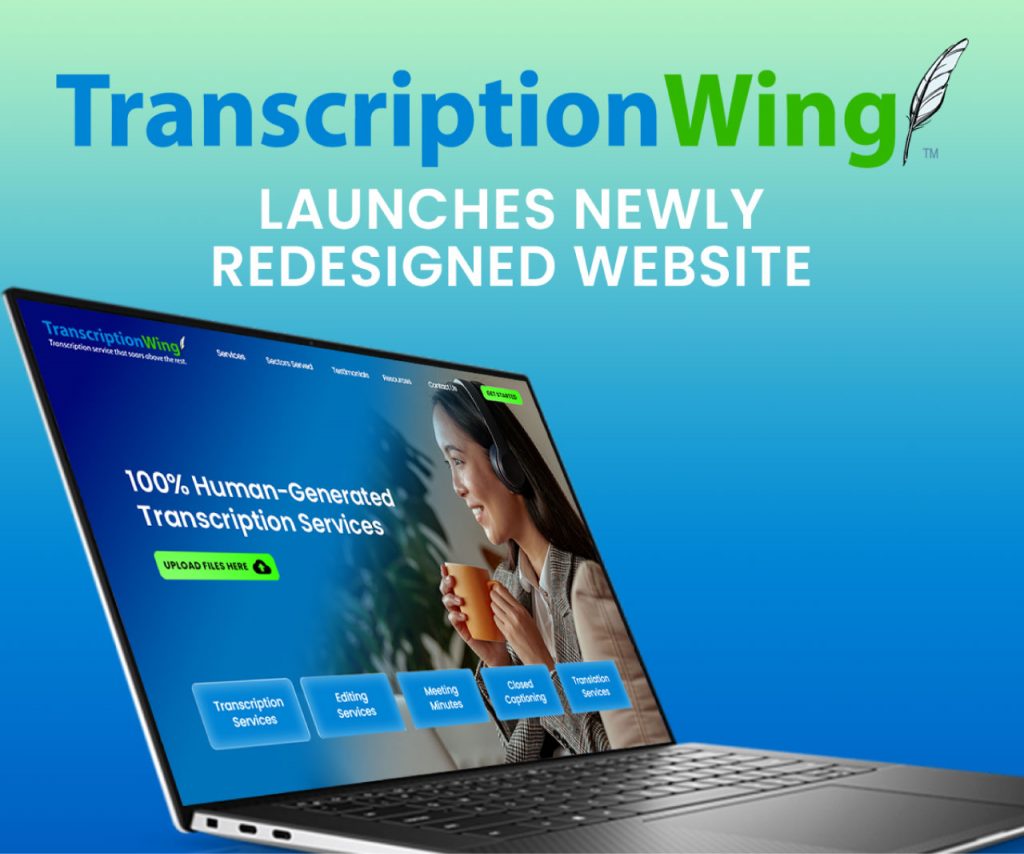 Transcription services company TranscriptionWing™ has launched its redesigned website, which now presents the company's main offerings in a more streamlined and informative layout.

TranscriptionWing's new website presents more in-depth information on it's services . Visitors can browse through an extensive catalog of its features, and the delivery and rate options.
The new website now has an informational page about each sector served, available for professionals in those industries to learn how TranscriptionWing's solutions can benefit them specifically.
The upload process for audio and video files has been streamlined. End users of TranscriptionWing's services will now have a more convenient user experience, thanks to a cleaner, more intuitive interface for uploading audio and video recordings and accessing their transcription projects.
For insights on transcription in specific industries, visitors can view the regularly updated blog and other materials under the Resources page of the website.

Another welcomed addition to the website is the word and character count tool. Visitors can add or type in their desired text into the free word counter tool to automatically get word and character count, the number of sentences and paragraphs, and reading and speaking time. The tool also provides a character count for social media posts and an option to transform text to lowercase or uppercase with just one click.
TranscriptionWing invites customers to visit its new website, which now offers a richer and more convenient user experience thanks to a more intuitive layout and extensive tailored information about its primary services and how it benefits various industries.
As a global service provider, Civicom® remains at the forefront of adapting data security strategies and protecting personally identifiable information (PII) in facilitating web-enabled marketing research. TranscriptionWing™ has extensive experience in delivering secure, high-quality transcriptions to market research firms across multiple industries including healthcare and pharma. Civicom® subscribes to a culture of confidentiality that is compliant with GDPR, HIPAA, and other data protection regulations, enabling the company to have successfully thrived as a trusted provider over the years.
About TranscriptionWing™
TranscriptionWing™ delivers high quality, accurate transcriptions to all industry sectors, including finance, market research, technology, healthcare, as well as to legal, educational, and religious organizations. Flexible turnaround options range from four hours to five days at competitive rates. TranscriptionWing™ solutions also include automated voice-to-text transcription clean-up as well as InSummary™, a meeting minutes summary service.
TranscriptionWing™ is a service of Civicom® Inc., a global leader in proprietary audio conferencing technology, online meeting software, web technology tools, and superior recording capabilities. For more information, call +1-203-413-2414 or visit www.transcriptionwing.com.