Get a 1-page summary of your meeting. Just ask.
Meetings are a part of the normal day-to-day life in any workplace and a properly noted meeting can be an important tool to record an organization's current status, its progress, and future agenda that may help it move forward or expand. When done right, meeting minutes can increase organizational productivity – you can save time and money by preventing avoidable follow-up meetings that discuss the same things yet result in very little progress.
Based on our research, most transcription companies do not provide meeting summary services. The ones that do, however, will designate a live person to attend your meetings and create meeting summaries for an additional cost. But will you go through the hassle of scheduling a professional note-taker and then pay exorbitant fees just to have your meeting summarized? This is why TranscriptionWing™ offers a valuable and useful service called InSummary™.
What is InSummary?
InSummary is a service of TranscriptionWing that is designed to help our clients with summaries of their meeting minutes. We can provide you with conference call or meeting summaries using the audio/video recordings from your sessions. Instead of receiving a full-blown verbatim transcript, we provide you instead with notes that summarize the meeting content. This is especially helpful when you want to refer to only the key meeting points without having to review a complete transcript.
Advantages of Using InSummary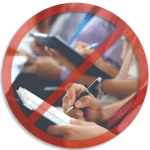 Save time and money. You won't have to go through the expense and hassle of booking, scheduling and paying for a live professional note-taker to attend your meetings.
All-human. Only our best transcribers and editors will be assigned to create your meeting minutes. These experienced professionals know how to identify key points in your recording and pull them out into the notes summary.
Faster Turn-Around. Expect your delivery time to be 50% less than what an in-person note taker typically asks for in scheduling your notes delivery. InSummary can turn around notes much more quickly. We work with you to agree on the delivery time that meets your needs.
Custom Formatting – Take advantage of our meeting summaries service with our customizable meeting minutes templates or provide a template of your own. This includes any color, logos, type fonts, or other customizable features that are part of your brand. Or let us pick a format for you.
Add On A Transcript Bundle. For a minimal price, we can also provide you with a transcript of the original meeting, along with your meeting minutes. This allows you to quickly review and see if there are additional notes you would like to add to the meeting summary.
Easy Upload. As a service of TranscriptionWing, you have access to the full benefits of managing your own account, uploading your files in any format, and providing your instructions on customization to us, right on our TranscriptionWing website. You also have access to our professional editor account managers who will help you with any needs you have regarding getting your files to us or explaining your preferences.
Meeting Summary Rates
Standard Summary
3 to 4-page summary
$100.00/audio hour
3-5 business day turnaround
A meeting summary containing the agenda, attendees, the highlights, and important points of your meeting. See sample here.
Executive Summary
1 to 2-page summary
$130.00/audio hour
3-5 business day turnaround
A more concise summary containing only the most important points of your meeting.
See sample here.
Custom Rates
Available for longer files or more complex projects
Contact us for more details
We offer specialized rate packages for our recurring customers with repeating InSummary projects.
Recurring Relationships: Our recurring clients enjoy working with us because we get to know their specific needs. They know we are focused on providing the best service and delivering on time, with accuracy and dedication. Once you give InSummary a try, you are likely to use InSummary again, as it is such an efficient way to maintain records of your activities.
To learn more, please call us at 888-223-9488, email or chat now using the box to the right. We're here to help.